Quiet, durable motor, and a stronger flow rate than the top selling units and an industry-leading ice-to-water ratio that ensures longer cooling times. Whisper-quiet and compact, weighing just 4.6 lbs (2.1 kg). Includes Power Supply and Connection Hose.
OSSUR COLD RUSH COLD THERAPY SYSTEM
Indications
The Cold Rush Cold Therapy System provides an effective and soothing treatment for reducing post-operative pain and swelling. Well suited for hospital, home or portable use, the Cold Rush Cold Therapy System helps return patients to normal activity faster by providing cooling relief throughout the healing and recovery process.
Product Highlights
Go with the flow. By incorporating the same durable motor used in much larger mobile air conditioners and refrigerators, Cold Rush provides consistent cooling.
Quiet as a whisper. The Cold Rush System uses a brushless motor driven by magnets instead of the traditional gear pump found in most cold therapy units to produce a whisper-quiet (30 decibel) unit that allows patients to get the rest they need to properly rehabilitate from their injuries.
Stay cooler, longer! The highest ice-to-water ratio in the industry and a design that produces less heat transfer from the motor to the water combine to ensure cold therapy pain relief for up to 6 continuous hours.The water inlet is at the bottom of the reservoir to achieve a 3.80 ratio of ice to water. Also, the motor is on the outside of the chamber, so less heat is transferred to the water. The combination insures greater ice durability and longer cooling times.
No igloos! Far more than just a modified beverage cooler, Cold Rush was designed holistically, with unique features like a locking lid to help prevent spills and insulated walls for improved cooling.
Ergonomic Cold Rush Pads
The Cold Rush Therapy System is available with a variety of Cold Rush Pads designed to deliver continuous cold therapy to the hip, knee, ankle, shoulder, back or hand. The unique, unbroken loop covering on the top portion of the Cold Rush Pads allows for use without foam wraps. Simply use the elastic straps to secure the Cold Rush in place. The patient can utilize the pad under postoperative bracing systems. Cold Rush Pads elevate the cold therapy experience to a new standard of fit and comfort. Ergonomically engineered to improve function, Cold Rush pads mimic the body's natural contours, ensuring patient comfort and compliance. View images above for dimensions.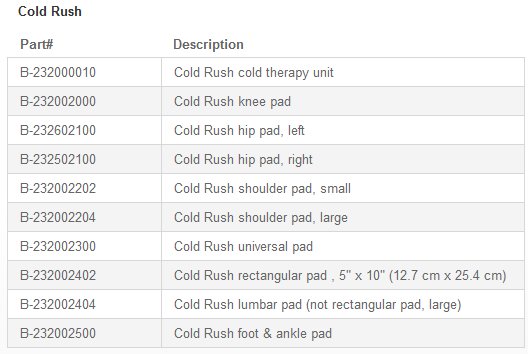 Approved for Clinical and Home Use: Manufacturer Recommended HCPC: E0218 + E0249
Please read carefully before purchasing
By purchasing this system, you certify that you are a qualified medical professional or currently under the treatment of a physician who has prescribed a Cold Therapy product. You agree to read and carefully follow the manufacturer's directions provided with the unit. You understand that the user will assume all responsibility for the use/misuse of this item. You agree to contact a physician immediately in the case of any untoward reactions caused by use of this device. You understand that Source Cold Therapy is only a distributor of the product and in no way assumes responsibility for any injury it may cause due to malfunction, misuse, inappropriate application, or other reason. Furthermore, Source Cold Therapy cannot provide specific details as to the product's application or use, other than is provided in the product documentation, developed by this product manufacturer. By clicking "Add to Cart" you certify that the above statement(s) is/are true.
Warranty And Return Information: Cold Therapy Returns
Due to the medical nature of this product, we cannot accept returns on this product. Defective units are covered under the manufacturer's warranty and a warranty replacement will be issued.
Manufacturer's Warranty
Unit: 6 months
Wraps: 1 month
Ossur Warranty Helpline: 800-233-6263
If your device, pad, or part is malfunctioning, or leaking, Source Ortho will gladly replace it with the same new, unused device, pad, or part within the warranty period. For more details and specifics to each manufacturer's unique expressed and implied product warranties, please contact the manufacturer directly. Please contact Source Cold Therapy (866-425-3209) with questions or comments regarding our cold therapy return policy.
Cold Therapy Return Policy:
Source Ortho wants to protect all customers from the increased risk of infection associated with using returned and/or previously used cold therapy merchandise. Cold therapy units are used after arthroscopic or open orthopedic procedures, and their pads come in contact with incision sites thus rendering them unusable by another individual. Local water municipalities do not remove every contaminant including pharmaceuticals, and industrial chemicals. Bacteria and/or contaminants in household water can dry on the inside of coolers and thus get passed onto another individual with "used" equipment. Due to these concerns, Source Ortho ships only new, sealed units to customers. We NEVER ship returned products to our customers. Unfortunately this is a common problem on Amazon, eBay and gray market websites were the resellers are not always legitimate distributers of these products. We encourage customers to call us for product information and general questions before placing their order online. For the protection of all customers, cold therapy units and pads are non-returnable items.
Running Time:
5-6 hrs
Size:
9"H x 7"W x 8"D
Weight (empty):
4.6 lbs
Hose Length:
72"
Flow Control:
Automatic & Adjustable
Power Supply:
Yes - Normal 110 plug
Wraps / Pads:
Cold Rush Wraps
Warranty (Cooler):
6 months
Warranty (Wraps / Pads):
1 month